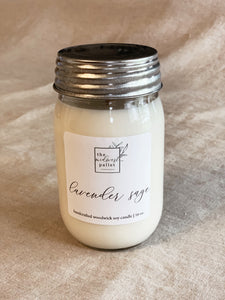 LAVENDER SAGE, HAND POURED SOY CANDLE | Soft Lavender and Garden Sage combine to create the perfect at-home spa day in the Lavender Sage candle.
These scent-boosted candles are hand-poured in small batches right in the heart of the Midwest! We use Ohio sourced fragrance oils and natural soy wax to ensure a quality product. Each candle comes in a rustic but modern jar and lid. The neutral colors are the perfect addition to any space! After the candle is completely burned, the jar can be rinsed with warm water and soap for reuse.

Our hand-poured soy candles are made with wooden tube wicks that houses a classic cotton wick to create a soft crackling sound while burning. These wicks are also made from sappy fruit trees grown and manufactured in the USA. 

16 ounce burns 60+ hours. 

Burning Tips: 
When lighting for the first time, make sure the wood wick is completely lit all the way across. Creating a full pool (meaning the liquid has melted to all sides of the jar) across the top layer of wax is important in the life of your candle.

Safety Tips
Do not leave candle unattended. Keep candles out of reach of children. 

For the most up to date news on The Midwest Pallet follow along on Facebook and Instagram!